Gaming Work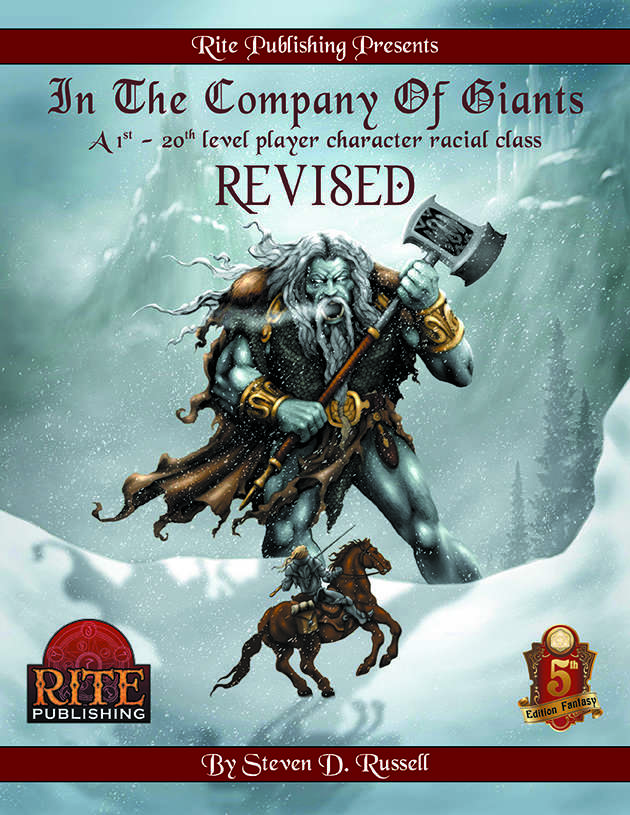 In the Company of Giants
Let the earth tremble 'neath your feet! 
In the Company of Giants allows 5e players to begin play as giant-kin, and grow to towering proportions as they gain levels! Wield your size and strength with classic giant tricks, hurling massive boulders – or your foes! Within these pages you will find:
The core jotunnar race.
A racial paragon class balanced for play alongside your adventuring companions, designed for use by player characters at every level of play.
Six Lineages for the jotun paragon, so that you can become a Cloud, Fire, Frost, Hill, Stone, or Storm Giant.
A first-person narrative describing Jotunheim's culture, attitudes, and physiology, fleshing out the nature of giants and jotunnar.
Let them play… In The Company of Giants!
(This product is a revision of an earlier 5e conversion. I am the author of the revised version.)
Reviews of In the Company of Giants:
Endzeitgeist – Review
Knight Errant JR – Review
Basics of the Game – YouTube Review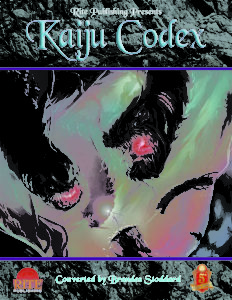 Kaiju Codex
It's Going to be Colossal! 
Kaiju Codex brings you 20 new massive monsters for Game Masters to use in their 5th Edition roleplaying game ranging from the natural disaster style Worldshaker to the lesser Kaiju like the Hubrun, or The Big Goblin, so you can find a challenge to fit your game! This product adds some new twists so you can make the existing Kaiju even more dangerous!
We also include The Iron Knight for Player Characters to crew, so you can have Kaiju vs Mech-like combat. There is an artifact for PCs to control a Kaiju for a short period of time, so you can Let Them Fight!
Plus advice on GMing Kaiju so your game can play like a Japanese Monster Movie or focus on something more classical like Jörmungandr, The World Serpent.
Reviews of the Kaiju Codex:
Endzeitgeist – Review
Basics of the Game – YouTube Review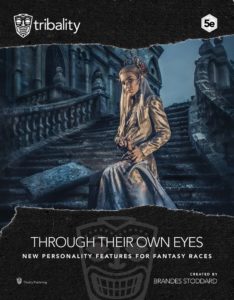 Through Their Own Eyes
The races of fantasy are more than funny-shaped humans. See them in a whole new light with this collection of personality features, customized to each race, which you can use in place of or in addition to the personality features from your background. For GMs, when you're creating a new culture of each race, just select a few items from each collection as the culture's dominant outlook to put a new spin on an old classic.
Here you'll find personality features for elves (including drow), dwarves, gnomes, halflings, half-orcs, dragonborn, tieflings, aasimar, goblins, and kobolds.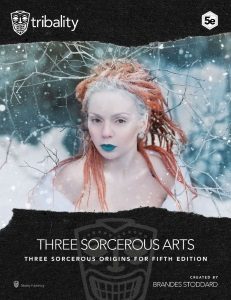 Three Sorcerous Arts
The arcane power that fuels sorcery expresses itself in countless ways: heightening the sorcerer's charismatic influence, granting influence over the bitter winds of winter, or joining the sorcerer's soul to the sea. The powers described herein are rare and strange, but mighty, for sorcerous blood is the essence of power. Answer the call of your birthright.
In addition, you'll find seven new magic items for sorcerers and other spellcasters. These magic items relate to the themes of the Royal, Tidal, and Winter Kin sorcerous origins and explore their stories.
Reviews of Three Sorcerous Arts:
Sea of Stars RPG Design Journal – Review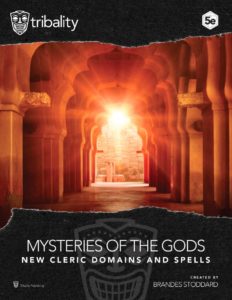 Mysteries of the Gods
In the worlds of fantasy, the gods are mighty, their works are evident to all. The clergy stand between the gods and mortals, receiving the commands of the gods and guiding the prayers of the faithful. Religions and religious sects take many forms. These three domains showcase very different forms of devotion to the gods: the zeal of blood sacrifice, the courage of the exorcist, and the animist's connection to animal spirits and the world's soul.
In addition, you'll find eight new spells for clerics and other spellcasters. These spells support the Blood, Exorcism, and Spirit domains and explore secondary themes of the cleric class.
Reviews of Mysteries of the Gods:
Endzeitgeist – Mysteries of the Gods 5e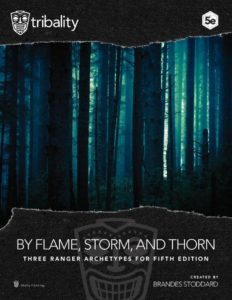 By Flame, Storm, and Thorn
With By Flame, Storm, and Thorn, you can give rangers new archetype options in 5th edition, emphasizing new approaches to combat, or find inspiration for dangerous new adversaries in the wilds.
The Lantern-bearer, the Stormcloak, and the Thornguard are ranger archetypes with unique approaches to magic and guardianship. They fit easily into most settings and work well for ranged or melee combatants.
Reviews of By Flame, Storm, and Thorn:
The Basics of the Game – Late Night Ramble 223
Sea of Stars RPG Design Journal – Review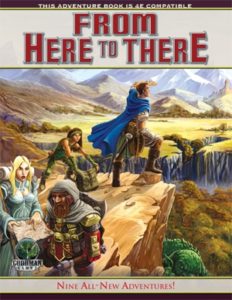 From Here to There
Why is "getting there" only half the fun? From Here to There presents nine all-new adventures focused on traveling from point A to point B. Sure, your players may be going from one dungeon to another – but why not spice up things in between? From aerial assaults to haunted bridges, From Here to There turns "getting there" into a lot more fun! Covering levels 2 to 13, this compilation has a place in every campaign.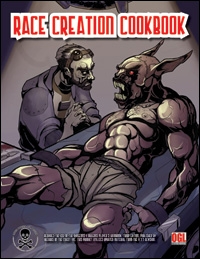 Race Creation Cookbook
The only point-based race creation system for Fantasy d20 and OGL! GMs with a taste for fantasy world-building can either borrow races for their setting from other sources or build new fantasy races from scratch. Presented in this sourcebook are guidelines for designing new fantasy character races with access to a wide variety of abilities and balancing drawbacks. Whether these are exotic new fantasy races or variants of more familiar fantasy races, the tools are in your hands. This sourcebook contains everything you need to create variations on your favorite fantasy races or all new fantasy racial ideas that no one has seen before.
Fiction Work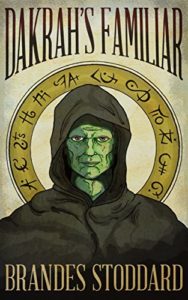 Dakrah's Familiar
Dakrah's Familiar is a story of fathers and sons in a world of magic and ancient secrets. Dakrah is a wizard, and to ease his solitude, he begins the creation of a familiar. What he learns along the way changes him forever.
Reviews of Dakrah's Familiar:
The Basics of the Game – Late Night Ramble 148
Kotas Reviews Everything – Kotas Reviews Dakrah's Familiar